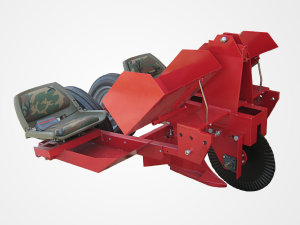 +Larger Image
F.O.B Milbridge, Maine
Shipped via Motor Freight


Heavy Steel Construction
Blade furrowing size is adjustable up to a three foot tree.
Spacing attachments available in various sizes from 4 to 8 feet (see below). A wheel can also be special ordered to users exact requirements.
Comes fully assembled.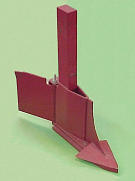 ---
Out of stock
760.0 lbs.
$7,535.00
---
Spacer Wheel Attachment Sold Seperately.
We built this planter for our own use. It works great in sod or plowed ground for small or large transplants.
The planter weighs 760 lbs. Towing specifications: three-point hitch-category 1 or 2. The minimum horsepower of the towing tractor is 16 HP.
The planter is equipped for two individuals to be seated and to plant.
To plant in sandy or loamy soil, set furrowing shoe to desired depth (up to 9" maximum). Tree planter should be made to point slightly downward when attached to tractor or tow vehicle. This will insure an aggressive cut by the coulture wheel. Two people should be used during planting process. If you are to use one person, the opposite seat should be weighted at approx. 160 lbs. This insures that the packing wheels (rubber wheels in rear) will be able to repack the soil that was displaced by furrowing shoe.
Drive shoe spacers come with the Tree Planter. These spacers are used to set the width of the wings of the shoe, which in turn, determines the width of the furrow. The three spacers are as follows: small spacer will give you a 4" furrow, medium spacer creates a 6" furrow, and the large spacer creates a 8" furrow. The size of the spacer is determined by the individual planting requirements of the user.
An optional Spacing Wheel Attachment may also be used with the Kelco Tree Planter. This is an enclosed metal wheel which is attached to the side of the planter and rides on the ground next to the planter. Inside the metal wheel is a spring that rides within a metal tube. The spring makes a clunking sound once during a full rotation of the wheel. When clunking sound is heard, person planting trees should immediately put tree in furrow. The spacer wheels come in the various sizes: from 4 to 8 feet. A wheel can also be special ordered to users exact requirements.
To plant trees in a straight row, the driver of the tow vehicle should pick a line of sight object in front of him. This object can then be sighted with an object on the tow vehicle it self. Once the two objects are in direct line of sight, you can commence the planting project. TIP:Once first row of trees has been planted, a rod, with one end attached to front of tow vehicle, and a rope or light chain approximately the height of tractor from ground up attached to other end, can be used to keep rows straight. The hanging chain or rope is used to go lightly over your first row of trees and is used to insure that the second row and so on are equidistant from the first row.
---
SPECIFICATIONS
Weight: 760 lbs.
Over All Length: 6' - 6" PLUS SPACER WHEEL
Over All Width: 5' - 4"
Over All Height: 3' - 6"
Coulter Diameter: 20"
Shoe Width: 7"
Furrow Width: 6" - 10" - 12" ADJUSTABLE
Furrow Depth: ADJUSTABLE UP TO 9"
Leg Room: 32"
Planting Stock Trays: 20" x 22" (2 EACH)
Packing Wheels: ADJUSTABLE - WIDTH & ANGLE
---
Spacer Attachments -
These spacer attachments for the Kelco Tree Planter helps you plant your trees with accurate spacing between each seedling. See below for extra wheels.
---
Out of stock
62.0 lbs.
$711.00
---
Out of stock
62.0 lbs.
$711.00
---
Out of stock
62.0 lbs.
$711.00
---
Out of stock
62.0 lbs.
$711.00
---
In Stock
62.0 lbs.
$711.00
---
Extra Spacer Wheels -
If you already have a spacer attachment, these extra wheels let you setup for additional spacing requirements.
---
Out of stock
30.0 lbs.
$443.00
---
Out of stock
30.0 lbs.
$443.00
---
In Stock
13.0 lbs.
$443.00
---
Out of stock
30.0 lbs.
$443.00
---
Out of stock
30.0 lbs.
$443.00
---
In Stock
30.0 lbs.
$443.00